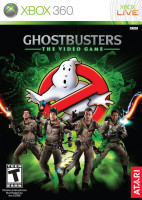 Ghostbusters The Video Game

Plataforma: Xbox 360
Produtora: Terminal Reality
Distribuidora: Atari
Gênero:

Ação


Lançamento: 16 de Junho de 2009
Outras versões: PC, PlayStation 2, PlayStation 3, PSP, Wii

Descrição
Sem descrição para este jogo.


Dicas
1 Dica

Veja o final de um antigo jogo do Ghostbusters
Repare na tela do computador que fica no segundo andar, ele mostra a seguinte mensagem:

Congratulation !!!
You have completed a great game.
And prooved the justice of our culture.
Now go and rest our heroes!

Essa tela é do final do Ghostbusters do commodore 64, um antigo computador que fez sucesso nos anos 80.


Telas
Veja também
Se você gosta desse jogo, provavelmente também vai gostar desses:
Não deixe de ver a lista de jogos de Xbox 360


Compartilhe: