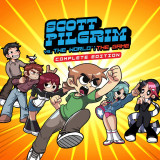 Scott Pilgrim vs. the World: The Game - Complete Edition

Plataforma: PlayStation 4
Produtora: Ubisoft
Distribuidora: Ubisoft
Gênero:

Luta


Lançamento: 14 de Janeiro de 2021
Outras versões: Nintendo Switch, PC, Xbox One

Descrição
Redescubra a adorada pancadaria estilo arcade em 2D inspirada na icônica série de quadrinhos e filme Scott Pilgrim vs. The World - Complete Edition!
Esta Complete Edition inclui Scott Pilgrim vs. The World: The Game, além dos DLCs com Knives Chau e Wallace.
Jogue como seus personagens favoritos – Scott Pilgrim, Ramona Flowers, Knives Chau, Stephen Stills e outros. Suba de nível e aprenda novas habilidades incríveis, desbloqueie itens e modos secretos, convoque aliados poderosos e muito mais!
Junte-se aos amigos e combinem suas habilidades para lutar do seu jeito enfrentando vários inimigos, ou compita com eles em minijogos incríveis tipo Queimada - tudo como achar melhor para derrotar a Liga dos Ex-Malvados da Ramona!


Telas
Veja também
Se você gosta desse jogo, provavelmente também vai gostar desses:
Não deixe de ver a lista de jogos de PlayStation 4


Compartilhe: