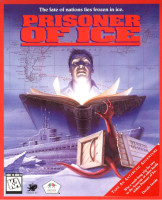 Prisoner of Ice
Plataforma:
PC
Produtora:
I Motion
Distribuidora:
Infogrames
Gênero:
Outros
Lançamento:
1995
Descrição
Sem descrição para este jogo.


Dicas
1 Dica

Jogue em qualquer fase
No CD do Prisoner of Ice abra a pasta chamada SavesVGA e copie os arquivos .ICE para C:/IMOTION (ou a pasta onde o jogo estiver instalado).
Inicie o jogo e carregue um desses saves, que são do começo até o final do jogo.


Veja também
Se você gosta desse jogo, provavelmente também vai gostar desses:
Não deixe de ver a lista de jogos de PC


Compartilhe: