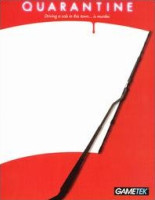 Quarantine
Plataforma:
PC
Produtora:
Gametek
Distribuidora:
Gametek
Gênero:
Ação
Lançamento:
1995
Outras versões:
3DO
Descrição
Sem descrição para este jogo.


Dicas
6 Dicas

Destrave todos os carros
Durante o jogo pressione ao mesmo tempo C e T.

Lista de passwords
Entre com um dos seguintes passwords:

The Park - OMNICORP IS ALL KNOWING.
Old Kemo - KEEP THE OPRESSOR OPRESSING.
The Projects - THE MEEK SHALL INHERIT ZILCH.
The Wharf - HAVE YOU HAD YOUR HYDERGINE TODAY.
Final Level - KEMO CITY IS A NICE PLACE TO VISIT.


Veja também
Se você gosta desse jogo, provavelmente também vai gostar desses:
Não deixe de ver a lista de jogos de PC


Compartilhe: