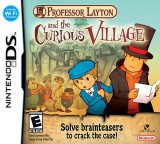 Professor Layton and the Curious Village

Plataforma: Nintendo DS
Produtora: Factor 5
Distribuidora: Nintendo
Gênero:

Quebra cabeça


Lançamento: 10 de Fevereiro de 2008

Descrição
Sem descrição para este jogo.


Dicas
5 Dicas

Novos quebra cabeças
Para destravar novos quebra cabeças no menu Bonus, você deve cumprir uma das tarefas indicadas abaixo.

The Inventor's House (121 a 123) - Monte o Gizmo.
The Decorator's House (124 a 126) - Todas as salas da pousada (Inn) devem estar com o máximo de satisfaction.
The Art Lover's House (127 a 129) - Complete o retrato.
The Golden Apple's House (130-132) - Termine o jogo.
The Puzzle Master's House (Puzzles 133-135) - Complete todos os 132 quebra cabeças anteriores.


Telas
Veja também
Se você gosta desse jogo, provavelmente também vai gostar desses:
Não deixe de ver a lista de jogos de Nintendo DS


Compartilhe: