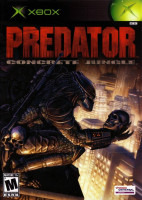 Predator: Concrete Jungle

Plataforma: Xbox
Produtora: Eurocom
Distribuidora: Vivendi Universal
Gênero:

Ação


Lançamento: 15 de Abril de 2005
Outras versões: PlayStation 2

Descrição
Sem descrição para este jogo.


Dicas
6 Dicas

Destrave novas roupas
Para destravar novas roupas, você deve:

Alien hunter - Mate 50 aliens na missão Bug hunt.
Bad blood - Destrua o computador no inicio da fase The new flesh.
City hunter - Mate todos os snipers na fase A night to remember.
Dark blade clan - Ignore os primeiros inimigos e mate um homem na fase Extinction event.
Jungle hunter - Mate o chefe da fase Midsummer night's massacre.
Ritual Armor - Destrua três séries de veículos que roubaram tecnologiaa na fase Under The Gun.


Telas
Veja também
Se você gosta desse jogo, provavelmente também vai gostar desses:
Não deixe de ver a lista de jogos de Xbox


Compartilhe: