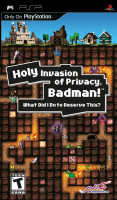 Holy Invasion of Privacy, Badman! What Did I Do to Deserve This?

Plataforma: PSP
Produtora: Ride On
Distribuidora: Sony Computer Entertainment
Gênero:

Estratégia em tempo real


Lançamento: 16 de Julho de 2009

Descrição
Sem descrição para este jogo.


Dicas
1 Dica

Deixe o jogo mais difícil
No menu principal faça a sequência L, R, L, R, L, R, L, R, L e R para deixar o jogo mais difícil. Repita para voltar ao normal.


Veja também
Se você gosta desse jogo, provavelmente também vai gostar desses:
Não deixe de ver a lista de jogos de PSP


Compartilhe: