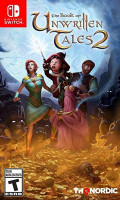 The Book of Unwritten Tales 2

Plataforma: Nintendo Switch
Produtora: KING Art
Distribuidora: THQ Nordic
Gênero:

Adventure


Lançamento: 5 de Fevereiro de 2019
Outras versões: PC, PlayStation 3, PlayStation 4, Wii U, Xbox 360, Xbox One

Descrição
Uma nova aventura da KING Art, os criadores de The Book of Unwritten Tales, The Critter Chronicles e The Raven – Legacy of a Master Thief.
Uma história de fantasia com mais de 20 horas de cliques do mouse, com o humor registrado de BoUT, divertidamente satirizando Senhor dos Aneis, Game of Thrones, Harry Potter, Discworld, The Hobbit, WoW e mais.
Um elenco de personagens peculiares, tantos já conhecidos como Wilbur, Nate, Ivo e Critter, mas também com novos personagens.


Telas
Veja também
Se você gosta desse jogo, provavelmente também vai gostar desses:
Não deixe de ver a lista de jogos de Nintendo Switch


Compartilhe: