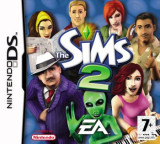 The Sims 2

Plataforma: Nintendo DS
Produtora: Maxis
Distribuidora: Electronic Arts
Gênero:

Estratégia em tempo real


Lançamento: 24 de Outubro de 2005

Descrição
Sem descrição para este jogo.


Dicas
4 Dicas

Destrave mais músicas
Para destravar mais músicas você deve:

Combat Mode - Pegue 12 placas.
Credits Theme - Termine o jogo.
Razor Burn - Pegue 24 placas.

Destrave o Mongoo Monkey
Para destravar o Mongoo Monkey no cassino, basta jogar com o The Sims 2 do DS e The Sims 2 do GameBoy Advance no console ao mesmo tempo.


Telas
Veja também
Se você gosta desse jogo, provavelmente também vai gostar desses:
Não deixe de ver a lista de jogos de Nintendo DS


Compartilhe: