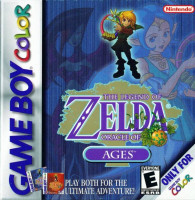 The Legend of Zelda: Oracle of Ages

Plataforma: Game Boy Color
Produtora: Flagship
Distribuidora: Nintendo
Gênero:

Ação


Lançamento: 13 de Maio de 2001

Descrição
Sem descrição para este jogo.


Dicas
1 Dica

Loja secreta
Jogue o The Legend of Zelda: Oracle of Ages num Game Boy Advance, e vá para a Lynna Village no passado.
Na tela onde têm o minigame com a espada entra na porta do lado esquerdo da tela e você vai encontrar uma loja secreta.


Veja também
Se você gosta desse jogo, provavelmente também vai gostar desses:
Não deixe de ver a lista de jogos de Game Boy Color


Compartilhe: